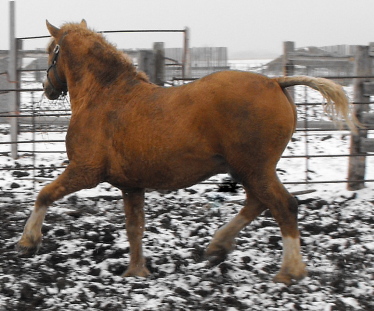 The huge and powerful BNC Big Ben*. The only breeding son out of 6 North American born foals of Cotton Eyed Joe who was exported to Germany in 1999. This stallion, with over 40 foals on the ground, with all of them being Curly* Coated, is believed to be Homozygous for the Curly gene.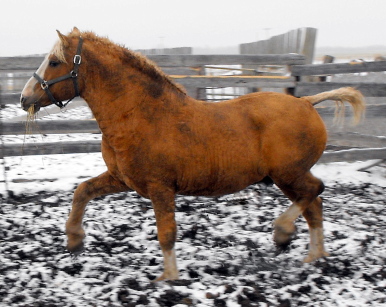 He is a great choice if you are looking for some thing not only unique but also Hypo-allergenic to breed your mares of any breed to! All of his foals can be registered with the International Curly Horse Association. Ben* is part Suffolk so he has not only the wonderful draft temperament but also extremely lofty and free movement.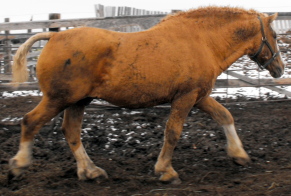 So if you are tired of seeing the smaller type of "Curly horse and pony" but want something different and unique, here you go.
Please note the "Curly horse", although it has two registries is NOT a Purebred Horse of any kind. it is a mix of many different breeds of horses. Ben himself is 1/8 Suffolk, 1/8 Morgan, 1/16 Arabian the rest is unknown Mustang/pinto.
Our other Curly stallion, Elko Nevada is 1/2 Morgan, 1/8 Arabian and the rest Mustang.
Both of these stallions have foals world wide. Elko is heterozygous for the Curly haired gene and it is believed at this time that Ben is Homozygous for the Curly hair and as such we offer a "Curly Gaurantee" on him.
DISCLAIMER. IF YOU HAVE HORSE ALLERGIES YOU MAY OR MAY NOT BE ALLERGIC TO CURLY HORSES, CURLY OR SMOOTH COATED. IF YOU VISIT A CURLY FARM MAKE SURE YOU TAKE YOUR MEDICATION WITH YOU. MANY TIMES, BUT NOT ALL, IF YOU ARE ALLERGIC TO HORSES YOU MAY NOT HAVE THE SAME DEGREE OF ALLERGIC REACTION WITH A CURLY BRED HORSE.BE VERY CAREFUL IF YOU GO TO SEE A CURLY HORSE THAT HAS JUST BEEN BATHED (at home or at a show or breed demo) AS WHAT WOULD NORMALLY MAKE YOU SUFFER ALLERGIC REACTIONS TO HORSES MAY BE MASKED OR "WASHED" AWAY.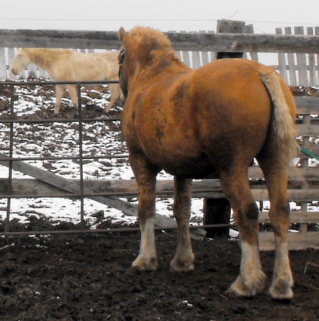 Again, PLEASE NOTE: being HYPO-ALLERGIC does NOT GUARANTEE you will NOT have any type of Allergic reaction to a Curly horse. It lessens, or decreases, the Possibility of a reaction but being Curly, in the form of a Curly or Smooth Coated does not Guarantee it. PLEASE take your medications with you when visiting any Curly farm.
https://www.facebook.com/#!/pages/Swan-Creek-Curly-Horses/168978559784851
For more information on our farm visit
https://www.facebook.com/#!/pages/Swan-Creek-Andalusians-Lusitanos-and-Livestock/171383032883690
---
Permissions in this forum:
You
cannot
reply to topics in this forum