Well we had planned to buy only 3 mares. Then a lady in the US wanted a foal that was to be weaned from the one mare as well as a yearling daughter to one of the other mares we bought. So I paid for them as well.
The night before they where going to be delivered I made an offer on 2 more mares and the next day, Dec 17th, I had 8 Cury horses handed over to me while I handed over my offer from the night before : )
These mares where not handled at all in over 3 years. There where some issues but once haltered and tied and handled they soon came around. Some quicker then others though! The oldest mare has only been a brood mare and has never had anything on her except a halter. She is 16 and proving to be be very easy to train. Our son is helping in the training which, at this time is just lead line due to the cold weather as well as the mare in foal. Don`t want to have anything go wrong.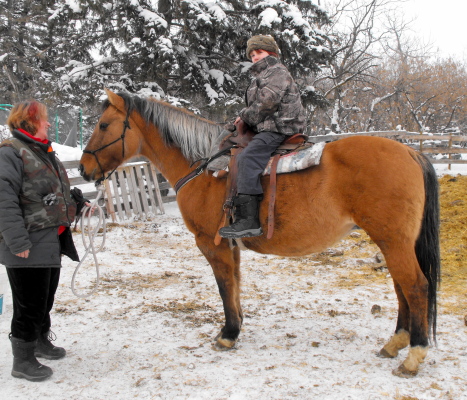 The other mares where born in 2003, nicely put together and the one that wasn`t bred we will be doing some mountain rides with this summer once we put some training on her. Kind of neat as she is a curly coated Curly where as the other ones are smooth coated.
What I like the most is that Olie has no allergic reaction to any of these mares. He does have bad reactions to most horses with only a few of our horses (like our stallion Shads) where he has no reaction to. When Olie is around most horses his eyes get blood shot, water, he sneezes, coughs, scratches and gets a rash..so most times he must take medication.
But as with Shads and a few of the other mares we have, and now these mares he does not use medication at all : ) The "Curly" horse comes from the Mustangs of Navada with out cross blood due to rarity. Both Curly and smooth coated curlys are hypo-allergic. The Morgan, Arabian and QH lines far back in the pedigrees of these girls are extermly old but of classic 1800/1900`s breed type. It appears that the "curly" gene for being hypo-allergetic is passed on strongly. We are really looking forwards to having hypo-allergic half Andalusians that can be enjoyed by people who are allergic horses but allergies keeping them from owning a horse : )
Due to Olie having no reaction to Shads the Lusitano from Brazil ( he oviously is hypo-allergetic as Olie has NO REACTION at all to him) these mares will be bred to him for 2011 Hlaf Andalusian Curly foals. These foals will be of dilute colors, be strong boned, great temperaments and over all quality. They will also be registered as half Andalusians and Curly horses : ) 3 of the mares are Buckskin with 2 being black-bay. The Buckskins are also, we believe, Dun.(so Dunskin)



Posts

: 112


Join date

: 2009-03-23


Age

: 58


Location

: Lamont, Alberta



Congrats on the new herd! Sounds like you collect horses like I do! Have fun!



Posts

: 65


Join date

: 2009-04-05


Location

: Beiseker, AB





Similar topics
---
Permissions in this forum:
You
cannot
reply to topics in this forum