My AQHA mare foaled over the weekend...it was very exciting, since there was no wax or anything, plus I haven't had a foal around since I was a kid. I went running out to see and low and behold, the little guy was up, but on the other side of the fence. Everything was okay, I guess you could say, he was born on the wrong side of the tracks. The colt is out my mare that I purchased last fall (she was pasture bred), so it was a guessing game a little as to the time she was due. But myself and my family are pretty impressed. He is getting quite feisty. I've named him Will Takoda, Takoda means friend to everyone in Sioux. He is out of WFR Little Joe from Bar T L Quarterhorses, the mare is Hawkeye's Grey Gal.
I'd be really curious if anyone has some guesses as to the color he will turn out, the stud is a dark blue roan, and the mare well listed as grey on her papers, is now 4 and seems more like a black roan, ie: she is black with a lot of grey mixed in and even some big whitish roany spots around her girth area and on her rump.
Thanks
April[img]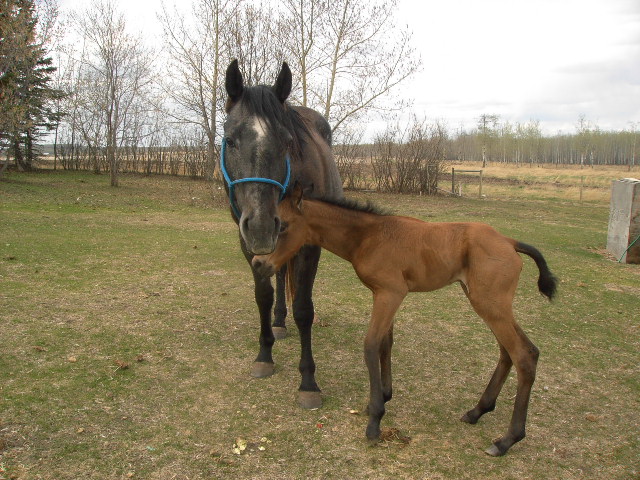 [/img][img]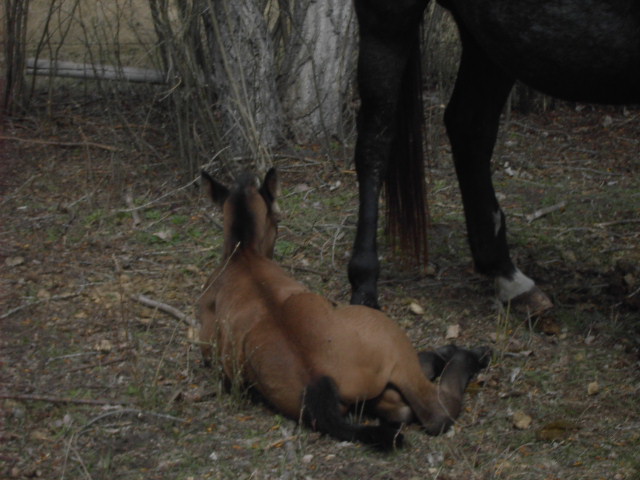 [/img]
Last edited by april on Fri May 22, 2009 1:03 pm; edited 5 times in total



Posts

: 6


Join date

: 2009-03-24



Very cute!! I had a blue roan colt a few yrs back from WFR Little Joe.

Definetly looks bay right now but, with mom being listed as a Grey I wouldn't be suprised if he adventually greys out as there is a 50% chance of him being grey with 1 grey parent. Mare is nice looking....some greys just take longer to grey out then others do and some don't really get that 'grey' even.

Definetly post some pics of him when he's a bit older!



Posts

: 151


Join date

: 2009-04-06


Age

: 41


Location

: Sherwood Park.



Given the darkness of his legs already, I'll bet he greys. Generally a bay is born with creamy coloured legs, while horses that are going to grey are darker right off the bat. He's cute, and he's got some long legs on him!



Posts

: 17


Join date

: 2009-04-05


Age

: 29


Location

: Lacombe, Alberta



Congrats on the new addition! Mom is definatly a gray and my bet is that the baby will be a gray as well. He might turn into a bay roan, but you never know. My little bay roan, Cactus (who has similair bloodlines) was born bay with dark legs...so you just never know!



Posts

: 180


Join date

: 2009-03-31


Age

: 30


Location

: Sundre



cute little stinker : )
He looks like a bay and his legs are very buffy so might not grey out. : )



Posts

: 112


Join date

: 2009-03-23


Age

: 58


Location

: Lamont, Alberta




---
Permissions in this forum:
You
cannot
reply to topics in this forum