So I finally went through all my pictures and found some. Some are newer, but most are old... guess I got to go take some new ones. lol Anyways, here they are!
Westpark Durham Lady aka Dusty
-18yo bay AQHA gelding; have had him for almost 9 years and has been there, done that; pictured last spring
Docs Little Cheetah aka Nikki and Chex Magic Birde aka Rory
-both are 5yo AQHA mare, Nikki is sorrel and Rory is bay
-both are well started and a blast to ride
-Nikki is for sale and Rory is my sister's trail horse
-pictured last May when my paint baby and black mare came home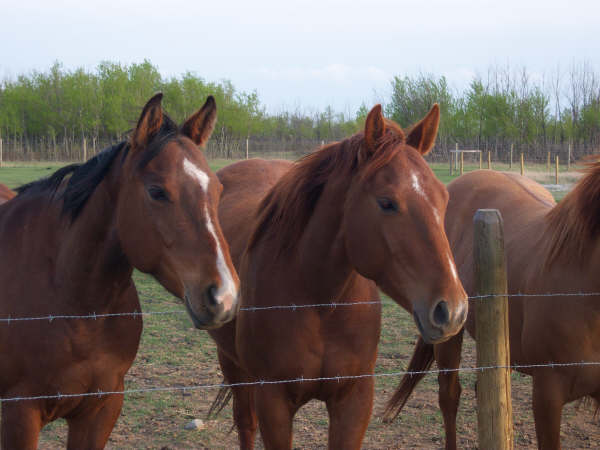 Docs Sugar Bar Fox aka Gracie and Mman Gold aka Lucy
-both are 4yo AQHA mares, Gracie is the red dun and Lucy is the sorrel
-Gracie is started and is currently being bred to SHP Jets Ivory Puff for an April 2010 foal and Lucy is currently going under saddle
-pictured last May when my paint baby and black mare came home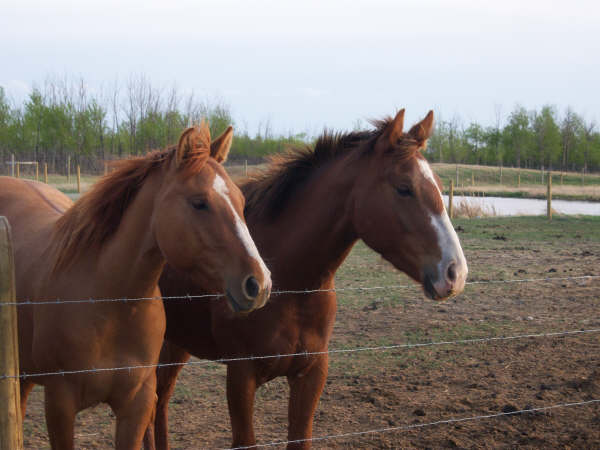 BWF April Misty aka April
-17yo chestnut AQHA mare
-had a QH stud colt last year and is due any day now with a Red E Impression foal; this is her last foal then we'll be riding her again
-pictured last year after having her stud colt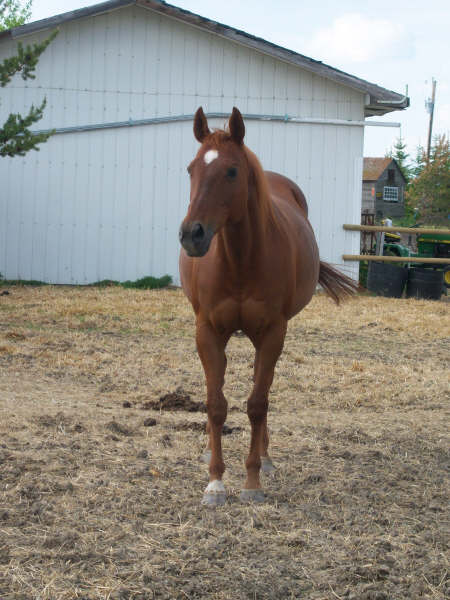 Chex Bird aka Brie
-3yo sorrel AQHA mare
-was to be started this spring but I traded her for a dual registered daughter of HBF Iron Man!! so excited!!!
-pictured last winter/spring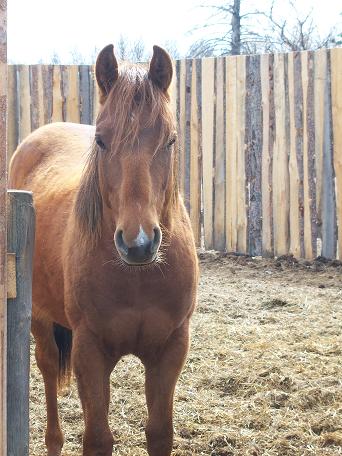 Big Lena Slate aka Tess
-3yo black AQHA mare
-is going to be started this summer, has had her share of issues in the past, so we are taking it slow
-pictured last winter/spring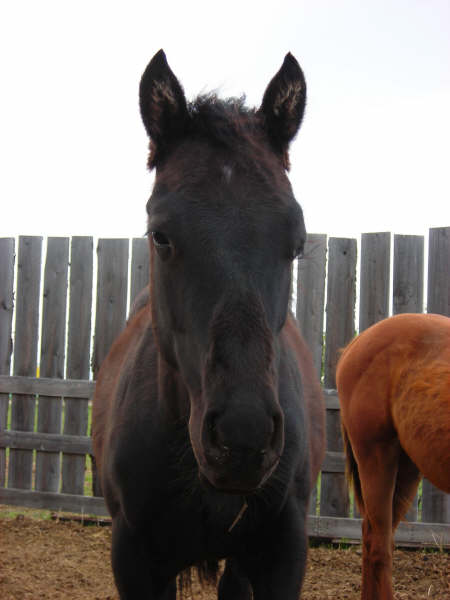 Miss Sunny Queen aka Zoe
-2yo buckskin APHA filly
-has been started in the roundpen; she's pictured as a weanling, really need to get some new pictures! She's for sale too.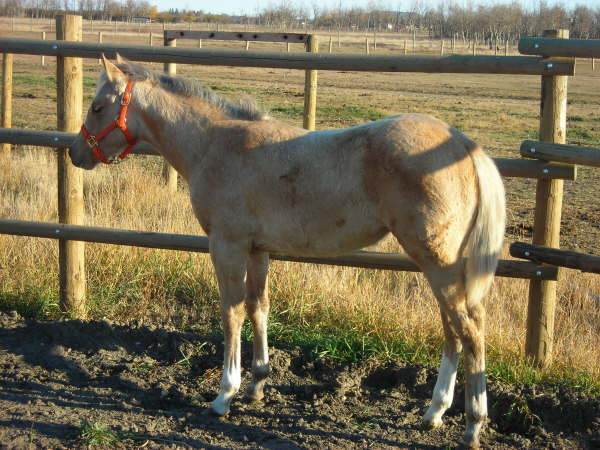 Playin For Kix aka Ryley
-yearling chestnut AQHA colt (soon to be gelding)
-stud colt from April; love this boy! Pictured as a baby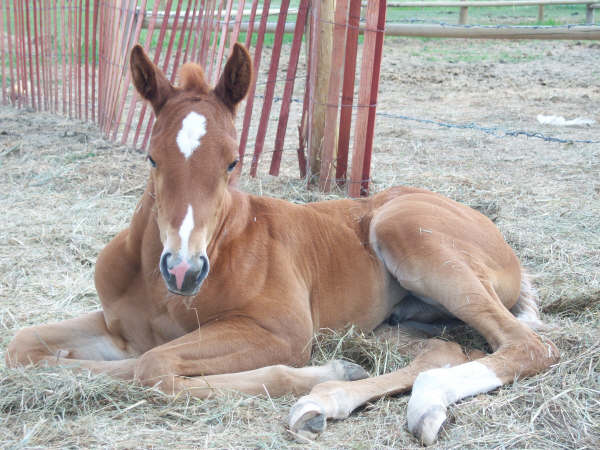 Scootin My Boots aka Reo
-my pride and joy!! yearling sorrel overo APHA filly
-also pictured as a weanling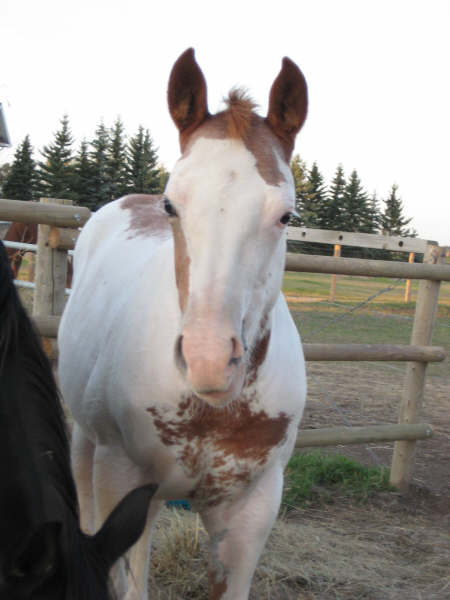 Scootin Azure Dee aka Dee
-13yo black APHA mare
-dam of Reo, lost this sweetie last October, miss her so much! So I had to include her. She was in foal to Red E Impression when I lost her. Pictured last May.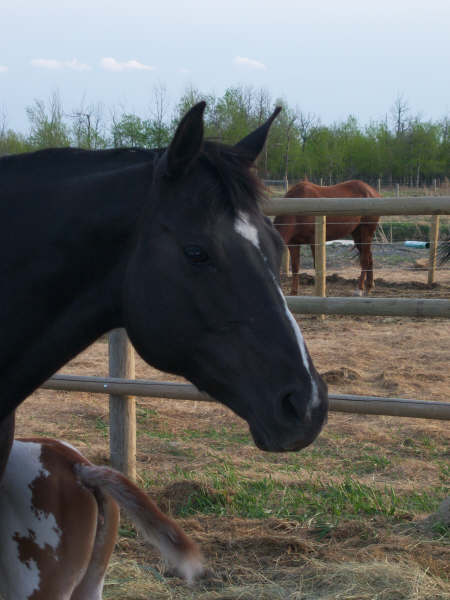 Hollywood Sin aka Sinders
-13yo black APHA mare
-bought this mare to try to replace Dee; she's the dam of the black filly by Impressive Proposal; is being bred to Red E Impression for a April 2010 baby
So there they all are! Enjoy! I'll post pics of my newest mare when she gets home!!
Wow nice herd!
I bet all them young ones will be keeping you busy for sure!




Posts

: 151


Join date

: 2009-04-06


Age

: 41


Location

: Sherwood Park.



I hope you dont work, all those horses are a fulltime job within themselves! I've got three and it gets pretty hectic as it is.

I love your Scootin Azure, what a pretty head



Posts

: 176


Join date

: 2009-04-01


Location

: Edmonton, AB



Thanks. I wish I didn't have to work, I'd be out with them all day, lol. I actually don't find it too bad, and I like being busy. They're all on a schedule as to when they get worked with (usually 3x a week), training-wise, but they get handled and brush daily, so they are all really easy to work with and in your pocket type ponies. It also helps that the boyfriend works from home, so he can go out during the day and work with a couple of them, or he'll have a horse tacked or waiting in the roundpen for me to work with when I get home. It also helps that I do the majority of the groundwork, then he puts the first rides on them, and I do all the finishing type work. We got a system going, lol!
Beautiful herd! I had e-mailed you about your Chex Bird filly, unfortunatly it wasn't the time for me to get anymore young ones! She sure is pretty though! Congrats on her sale!



Posts

: 180


Join date

: 2009-03-31


Age

: 30


Location

: Sundre



Thanks. I'm definitely going to miss her. She is unbelieveable smart and has a ton of talent. The people that are taking her are reining/cutting/ranch so she should do really well with them.
I hope so! She sure did have the pedigree to do it!



Posts

: 180


Join date

: 2009-03-31


Age

: 30


Location

: Sundre




---
Permissions in this forum:
You
cannot
reply to topics in this forum